International Data Solution which is better known as IDSCA is a Bookie PPH that has been in business since 1997. In addition, they are one of the oldest Bookie PPH provider in the world and are based in Costa Rica. Our IDSCA.com Bookie Pay Per Head Review will go over whether they deserve your business or not.
As one of the oldest Bookie PPH service, several sportsbook pay per head reviews have been written about this company. However, we noticed that most of the IDSCA PPH reviews about them were negative. Thus, our review will determine whether they were right on the money or because success leads to jealousy.
According to the IDSCA website, they have a staff made up of 20 certified programmers, technicians and customer service clerks. Furthermore, they say they are the "Originator in Pay Per Head SportsBook Software" which is a big claim to make.
IDSCAr Bookie Pay Per Head Information:
Inception: 1997
Telephone: 1-866-225-5437
Email: info@idsca
Live Chat: Yes
Website: www.idsca.com

Software: ASI
Products: Sports Betting, live betting, online casino, horse racing and Live Dealer Casino
Price Per Player: $10 and Up
Private Website Available: Yes
IDSCA Bookie Pay Per Head Review
IDSCA.com has a good looking website that does an excellent job describing their bookie PPH products.  It is clean and to the point and really gives you a feel of confidence. However, registering for their Bookie Pay Per Head services is another matter.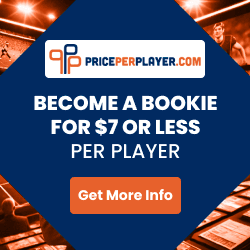 This is because the registration process is not automated and you have to wait for a representative to contact you. Once you have submitted the form, you will have to wait a few hours before someone contacts you. Thereafter, you will need to make a deposit before you can get started with your bookie website.
It is unfortunate they still use an archaic way to open an account as the top PPH companies are automated.  In addition, the process is not as simple as they make it out to be on their website and the 1 week trial still requires a deposit.
Lying to potential customers is not a good way to start a business relationship.
The Bookie Pay Per Head Software
IDSCA.com still uses the ASI Sports Betting Software which in its own right is a solid sports betting platform. However, it is an older platform that requires lots of maintenance and upgrades in order to stay fresh and modern.
Thus, the agent/bookie management interface is ok but they more or less are still using the original ASI interface.  In essence, the software is decent and does have everything you need to manage your sportsbook and your players. However, we expected more from them then just the basic software.  We expected many extras like you see in other Bookie PPH services.
From a player's point of view, it is once again the ASI platform which is solid but lifeless.  Once again, IDSCA disappointed us by making no effort to make it prettier or better.
Our Recommendation about IDSCA.com

While they do have a solid bookie platform, the cost for their Bookie PPH services is much too high.  In addition, other features like live betting and phone betting for your players you must pay an extra cost. They are many Bookie PPH services that offer a much better software and player website at a much lower cost.
Our recommendation is to use a different PPH provider that has no extra fees for extra features.